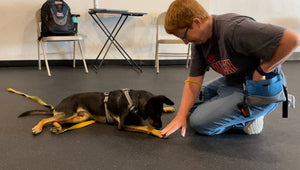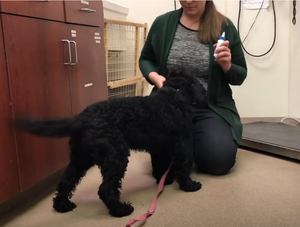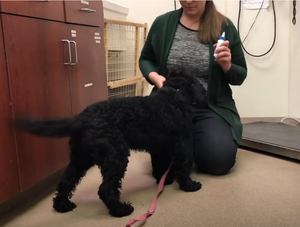 Online Cooperative Care Course for Dogs - 3 weeks - (Starts Thursday, September 15th)
This course is designed for dog guardians who are hoping to help their dog form positive associations with veterinary or grooming care needs. This course be held online via zoom on Thursday evenings for three weeks starting on Thursday, September 15th a 6pm. This is a great option for dogs who would be too anxious or reactive to take an in-person class. This class will include live coaching with your instructor, and you will be able to learn from watching other dog-handler teams as well. In this course we will use positive reinforcement, counter conditioning and desensitization to help your dog learn that their routine care can feel like a safe (and maybe even enjoyable!) experience. This course is three weeks in length and will cover:
Helpful start button behaviors for cooperative care such as stationing on a mat or a grooming station 
Introducing veterinary, grooming or care tools such as medication bottles, nail clippers, harnesses, cones, or muzzles in a positive way 
Useful foundation skills for cooperative care such as chin rests and following a target
Beginning body handling conditioning exercises designed to help dogs form positive associations with the type of handling associated with examination at a vet clinic, grooming, ear care, nail care, and more! 
Body language reading instruction to help you appropriately set the pace of your training to set your dog up for success on their cooperative care journey 
Class sizes will be limited to ensure each handler-dog team gets sufficient coaching and support from their instructor. 
This class will be held weekly via zoom at the follow dates / times: 

Thursday, September 15th, 2022 - 6pm 
Thursday, September 22nd, 2022 - 6pm 
Thursday, September 29th, 2022 - 6pm 
Please fill out the following Group Class Intake Form when registering for a class. If you miss a week of class, a recording of the session you missed will be provided to you afterwards.