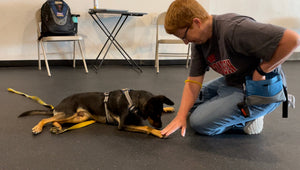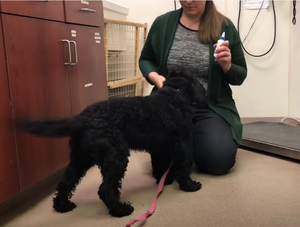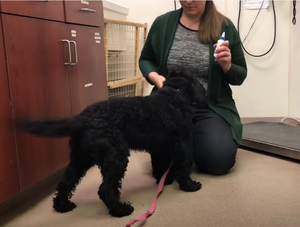 Cooperative Care Course for Dogs - Starts Sunday, January 14, 2024
This course is designed for dog guardians who are hoping to help their dog form positive associations with veterinary or grooming care needs. In this course we will use positive reinforcement, counter conditioning and desensitization to help your dog learn that their routine care can feel like a safe (and maybe even enjoyable!) experience. This course is four weeks in length and will cover:
Helpful start button behaviors for cooperative care such as stationing on a mat or a grooming station 
Introducing veterinary, grooming or care tools such as medication bottles, nail clippers, harnesses, cones, or muzzles in a positive way 
Useful foundation skills for cooperative care such as chin rests and following a target
Beginning body handling conditioning exercises designed to help dogs form positive associations with the type of handling associated with examination at a vet clinic, grooming, ear care, nail care, and more! 
Body language reading instruction to help you appropriately set the pace of your training to set your dog up for success on their cooperative care journey 
Class sizes will be limited to a maximum of four, handler-dog teams. Dogs attending this course must be current on rabies and distemper vaccinations and must be able to calmly settle in a group class environment. If a dog is unable to adjust to the classroom environment, a credit for the value of the group class will be transferrable to the price of a private initial consultation appointment or the next scheduled online version of this course. 
The next section of this course will be held at 372 S. Koeller St Oshkosh, WI (Ideal Dog) on:
Sunday, January 14th - 3:30pm 

Sunday, January 21st - 3:30pm 

Sunday, January 28th - 3:30pm 

Sunday, February 4th - 3:30pm 
Please fill out the following Group Class Intake Form when registering for a class.